BENEFITS OF ANCHAL SOYABEAN OIL
• Contains good variety of essential omega fatty acids that the body needs to remain healthy
• It can reduce dangerous cholesterol levels
• Has little flavor and hence doesnt interfere with the taste of the food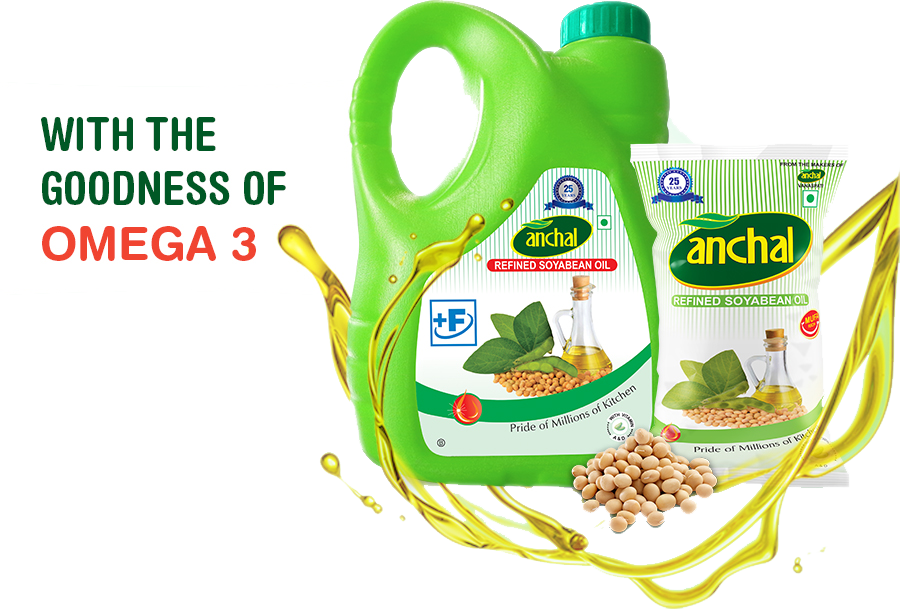 • Aids in improving symptoms of Alzheimer's disease
• It can stimulate the regrowth or increased 
healing
 of bones.
• Protects skin cell membranes from damage and infections.
Soyabean Oil is a form of vegetable oil that is extracted from the seeds of soyabean. It is one of the most widely used vegetable oil in the world as soyabeans are one of the most widely cultivated and utilized plants.
Soyabean oil is considered a healthy oil because of its good variety of essential fatty acids that the body needs to remain healthy. It contains Omega-3 Fatty acids & other fatty acids like stearic acid, palmitic acid, and oleic acid which can reduce dangerous cholesterol levels. Hence, Soyabean Oil decreases the chance of heart attacks and strokes.
Soyabean oil has little flavor, which is an advantage because it won't interfere with the taste of the food. Adaptable to nearly every fat or oil application in the food industry, soybean oil works well with other ingredients including other fats and oils, making it very suitable for use in salad dressings, sauces and baked goods. We have different packaging sizes and quality for soyabean oil which are listed below. We sell loose soyabean oil which is sold in tankers. We also contract produce and package for customers using their own brands.